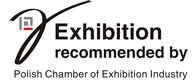 09.04.2020
We wish you a happy and peaceful Easter - Focast team!
23.03.2020
The current situation in Poland and all over the world affects each and every one of us and has an unprecedented impact on all sectors of the economy, including that of machinery and new technologies. Despite all the difficulties faced by the industry, in recent weeks we have received a lot of support from our partners and exhibitors, which motivated and encouraged us to work even harder towards the June edition of the event.
10.12.2019
10th of December - Foundry Day!
More news
---

FOCAST 3-6.11.2020
The FOCAST Forum is a unique event in Poland dedicated to foundries, machinery and equipment manufacturers, component suppliers, service providers and science representatives. The thematic scope is, among others iron, steel and non-ferrous metal castings, forgings, as well as the design and manufacture of machines, equipment and entire lines for foundry, molding materials, heat treatment of castings, furnaces, computer support in casting design, control and regulation technique and artistic castings