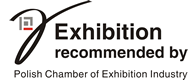 Thank you for your attendance
17.06.2016
We are pleased to inform, that the decision of the resolution "Polish Chamber of Exhibition Industry" (PIPT) - INNOVATIONS-TECHNOLOGIES-MACHINES POLAND FAIR received Certificate "Exhibition recommended by Polish Chamber of Exhibition Industry".
17.06.2016
Dear Visitors and Exhibitors - below you can find some photo galleries, which will take you back to ITM Poznań Fair 2016. Relive the best industial trade fair in Poland and Central-Eastern Europe once again!
15.06.2016
This year's edition, which the leading theme was "Innovation for the industry, drive for business," became a record in every way! The four-day event, bringing together professionals working in the field of new technologies, metal processing and automation production, brought to Poznan crowds of visitors interested in the future modernization of production and management, and investing in first-class technology. At their disposal were thousands of industrial machines and equipment, providing a common journey in the digital future.
More news
---

FOCAST 7-10.06.2016
ORGANIZERS: